Choosing the best garage and entry door system for your home can be overwhelming. Not only do you need to choose the design aesthetic that you want – windows, no windows, color, profile style, etc. But did you know that there are a variety of materials to choose from outside of your traditional steel doors? Choosing the right material for your home is a very important decision beyond and aesthetic curb appeal, as you need to consider the climate that you live in, the direction that your home faces, and the maintenance expectations or desires that you have to ensure the longevity of your door.  Here are some top factors to consider:
Climate & Home Direction
It's natural for climate and weather changes to impact your homes exterior, but we can help equip you with tools to make the best material decision for your home and the state that you live in! For example; It's natural for wood to expand and contract in response to temperature and humidity. This will more than likely cause raw wood to be exposed therefore needing additional maintenance and annual refinishing.  The same is to be said about the direction that your home faces. Does it get a lot of direct sunlight? Or is your garage shaded by trees in a wooded area? These are all climate impacts that will have a direct effect on your door. Southern and western exposures can push the limits of finishes, especially if a dark stain is selected, and will require maintenance sooner than those on the north and east sides.  Water can also have an effect on doors – houses near water can also be susceptible to more frequent maintenance as are those without eave overhangs/gutters that leave a door less protected from the elements.  
If you live in a state that's susceptible to drastic temperature changes, however you are not looking for annual maintenance, then our patent pending DURA-EEZ™ doors may be the best fit for you. This new to market product provides the real look of wood doors with minimal maintenance. Keep scrolling to learn more about DURA-EEZ™! 
Maintenance Requirements
Traditional wood doors require annual refinishing to ensure the quality and longevity of your door. This maintenance can be done professionally by a painting company, or could easily be done by the homeowner.   Generally, the rule of thumb is that this maintenance will need to be done every 12-18 months depending on how much your door is wearing in the elements. It's critical to maintain the integrity of the clear coat to ensure that the weather doesn't eat into the stain.  You shouldn't need to re-stain your door if you keep up with the maintenance clear coat.If continued maintenance isn't something that you're wanting to take on, then we would recommend our DURA-EEZ™ low maintenance material option! 
Style & Design
There are a few different style designs to think about as you refresh the exterior of your home.  You can go all out and change windows, siding, & doors and go from a more traditional appearance to a more modern aesthetic or simply update the doors and still drastically enhance your curb appeal.  Depending on your vision there are numerous options for garage and entry doors to change the appearance for minimal costs, but provide a big bang. 
A modern style is becoming more popular.  Our COVE/THICKET is an example of one of the many modern styles to consider. 

The more traditional style is still just as popular with existing home updates as well as new single-family homes.  The LOCH/TIMBER style is an example below of a more traditional offering.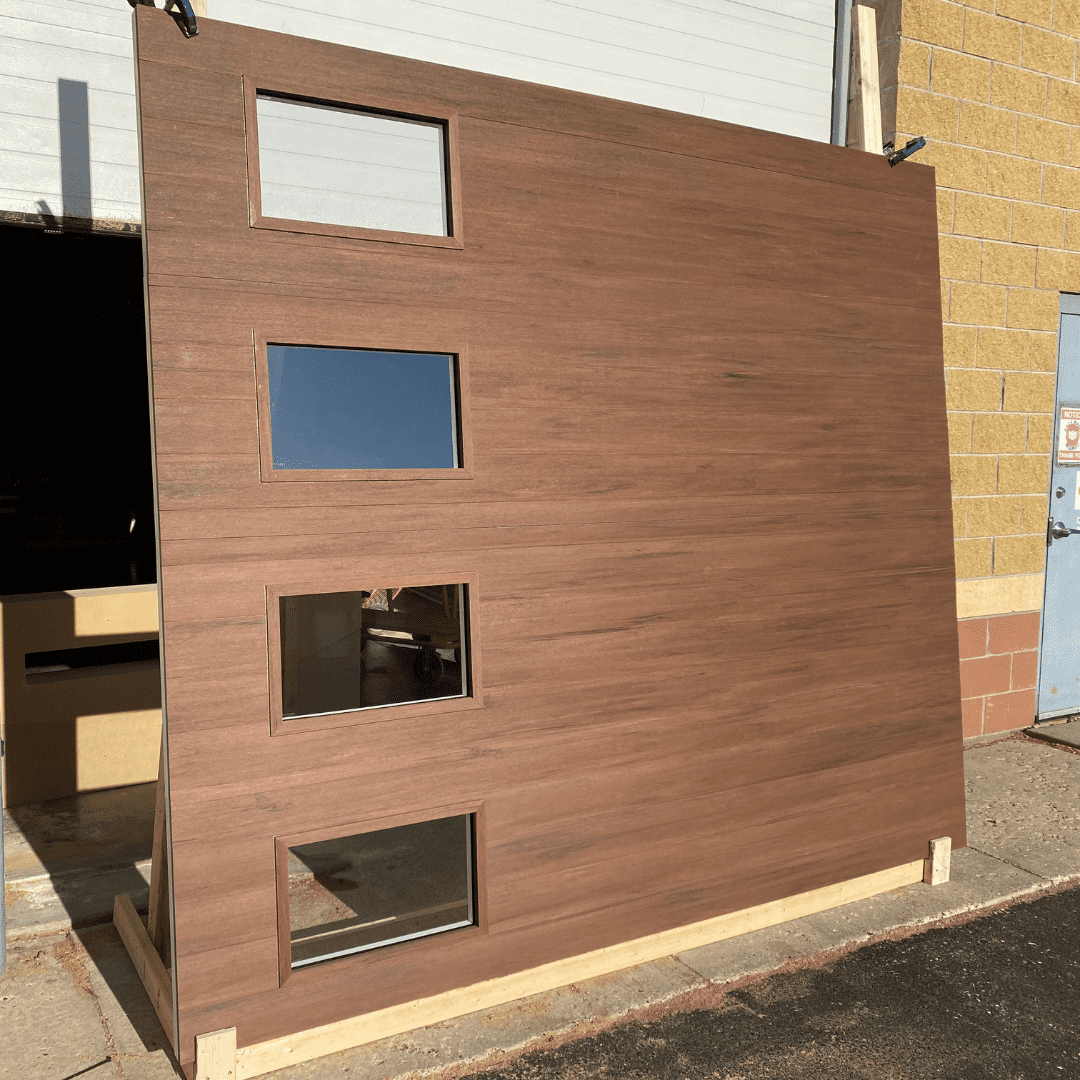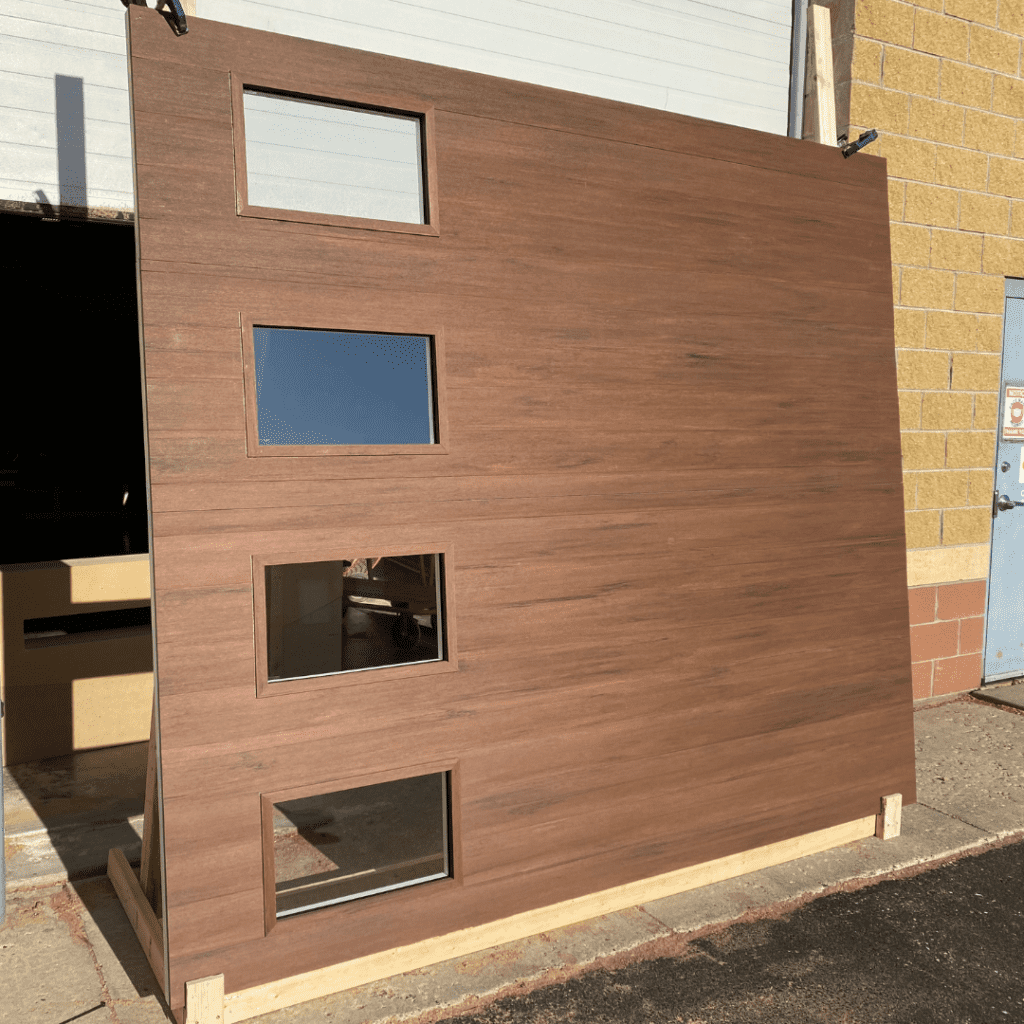 There can be small subtle changes that can make a world of difference to the design.  Do you want to have arches?  Do you like more grills in the glass?  Do you want glass as a design element?  What color palette is available in the products you are looking at for your house?  Would you want it painted? Stained? Or do you want a low maintenance composite material like our DURA-EEZ™ product?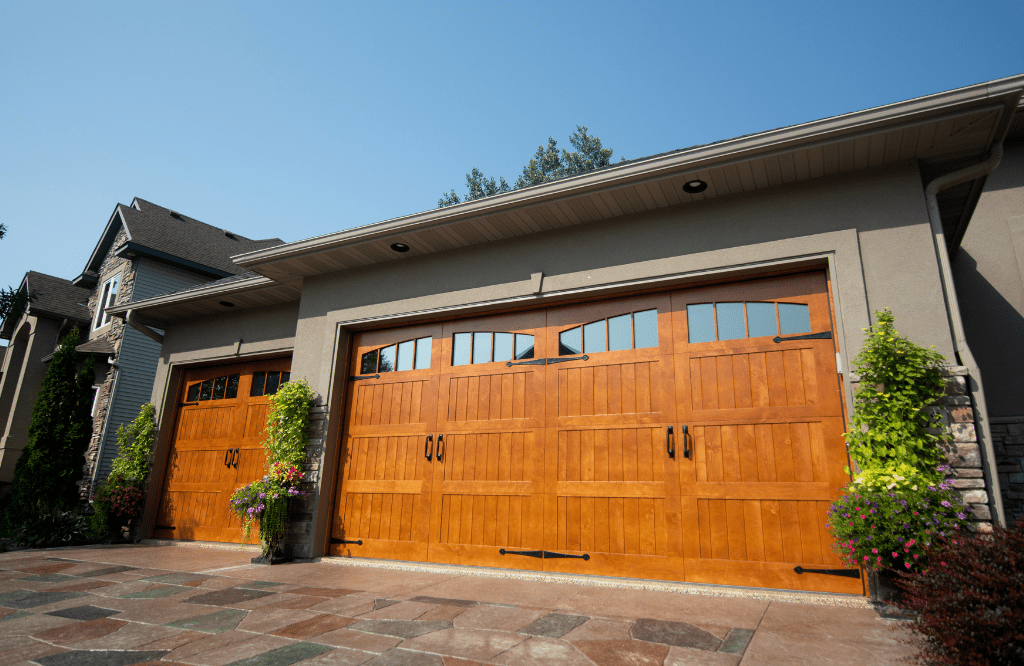 If you have any questions about what door material or style is right for you and you rhome, please don't hesitate to reach out to one of our qualified dealer partners or to us directly. We'd love to help you!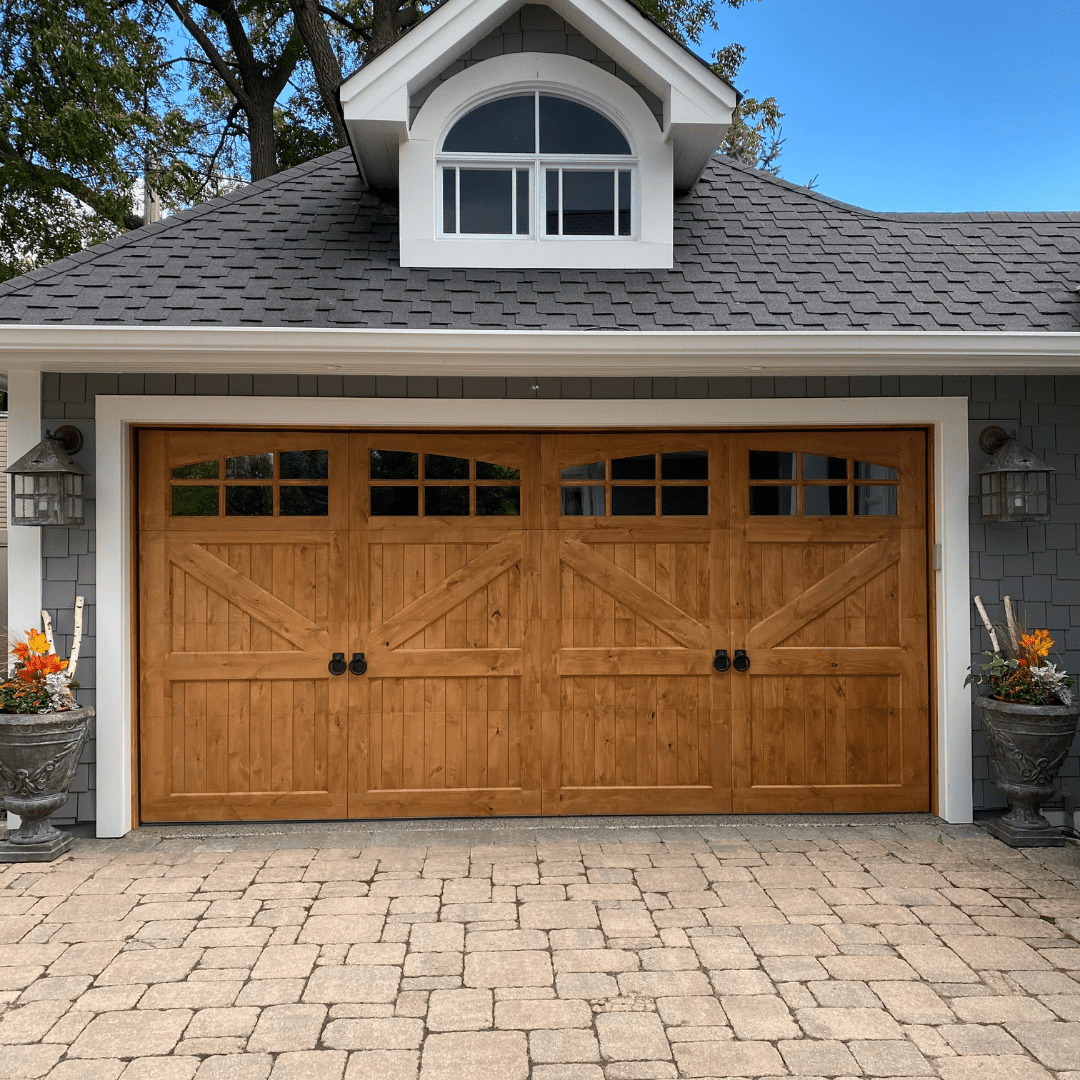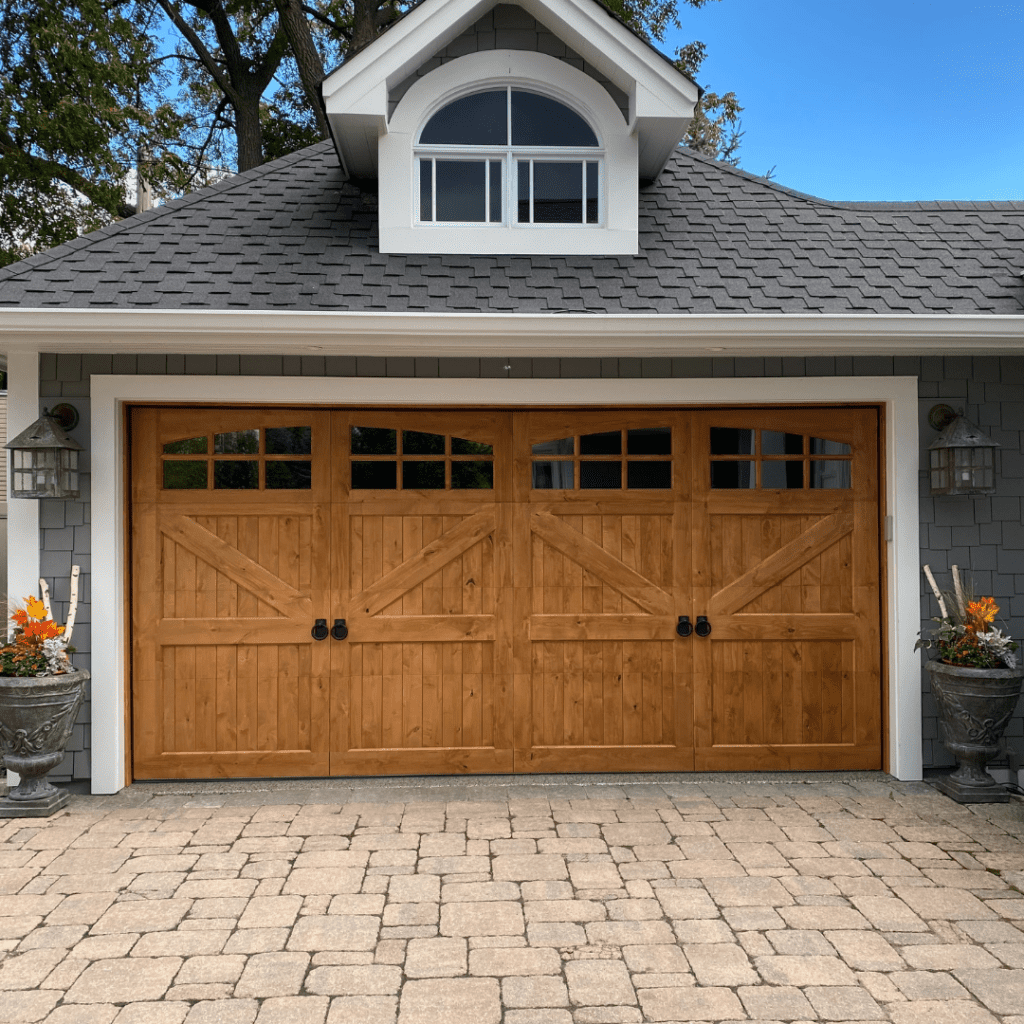 Have an idea of the color and style of door you'd like? If you've found an inspiration photo, or you'd like to match other woodwork in your home, you'll want to understand which species of wood will be the basis for the look you're going for. Each type of wood has a specific grain pattern and accepts stained finishes in unique ways. Our team can review your ideas and help you select the wood species and type of finishing that will be needed to achieve your dream door.
We guarantee our natural wood doors for up to one year.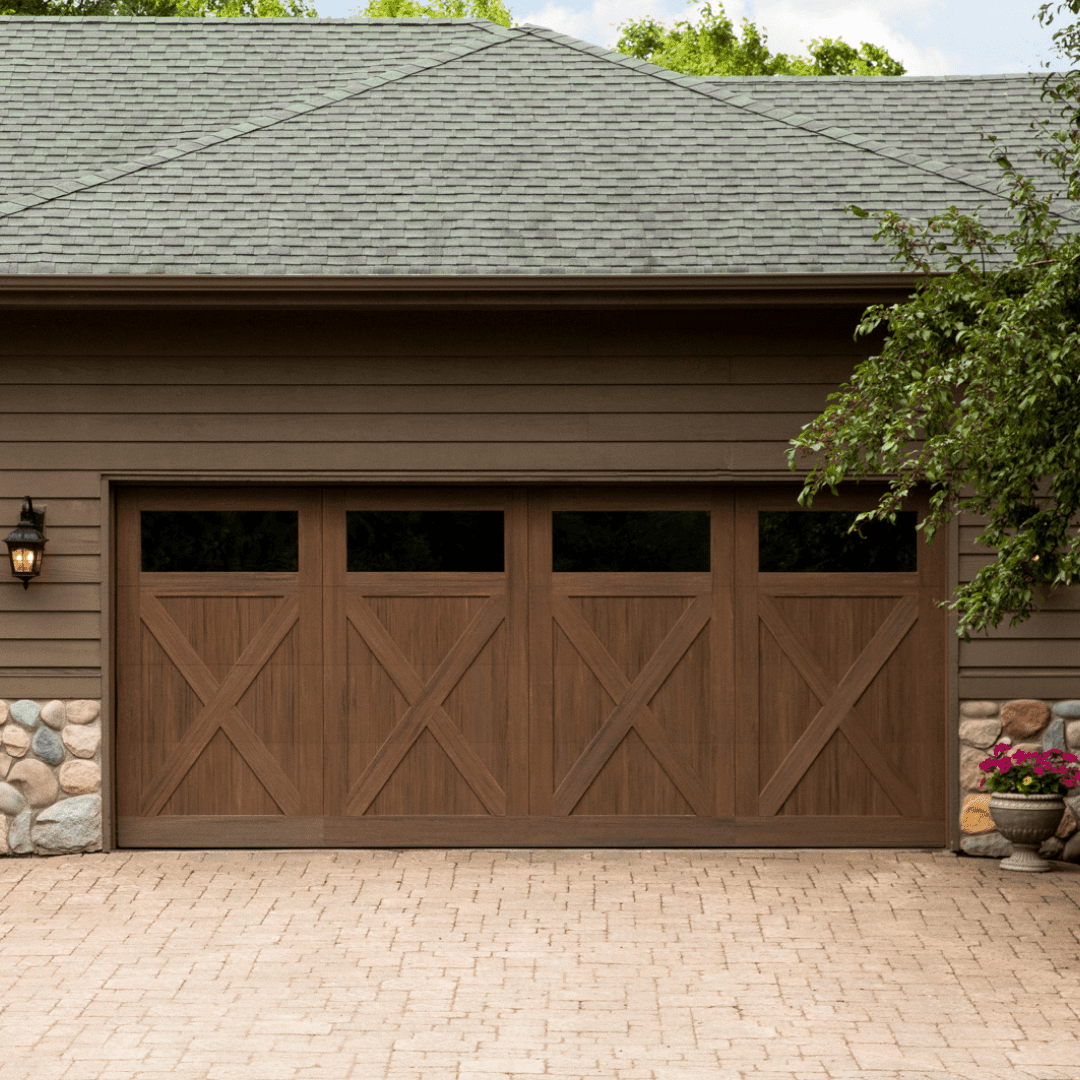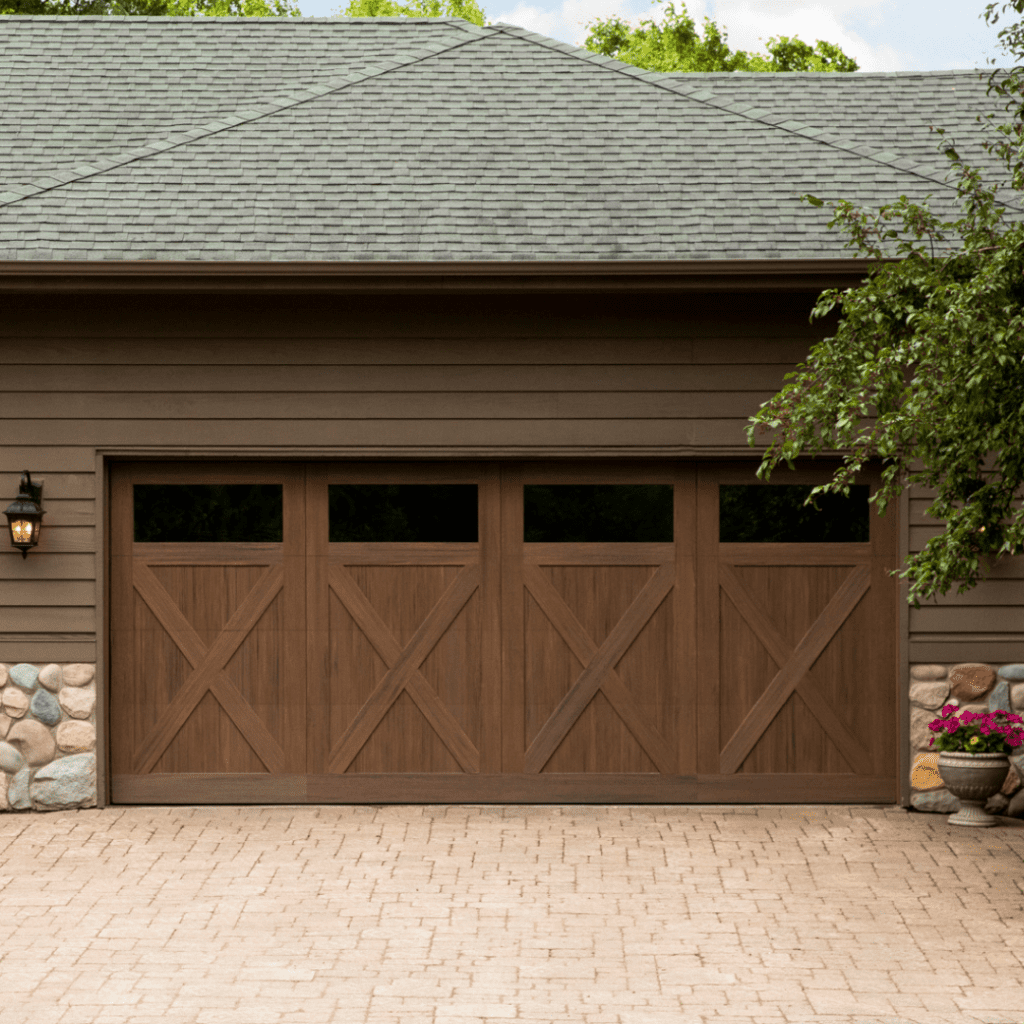 Our DURA-EEZ™ material features a proprietary technology to help make the balance easier between durability and high end aesthetics with the least amount of upkeep. These garages doors blend the look and feel of genuine wood doors with modern technology to operate smoothly. They are easy to clean, are water, stain, and rot resistant, and best of all come without the hassles of upfront finishing and yearly maintenance.
These DURA-EEZ™ doors carry a 50 year warranty against color fade and a 5 year warranty against delamination.